Why Is Sapphire The Royalty Stone?
Since the olden ages, sapphires have been believed to protect royal families from harm, envy and bad spirits. Blue sapphires were even thought to be an antidote for poison
It has been used to protect against negative energies, as well as calm the mind, strengthen intuition, and invite spiritual clarity.
Since I'm mentioning Royalty, I'll give you some information on Her Majesty Queen Elizabeth II. I love her and all things royal. So I hope you enjoy this information as much as I do.
Royalty has always favored Sappires and the British Empire is no exception.
Did you know the term "crown jewels" refers to a number of crowns, scepters, orbs, swords, rings, and other items worn by a royalty member during various state functions, including the coronation ceremony. Current estimates place the value of the British Crown Jewels between $4 to $6 billion!
The British Crown Jewels are kept in the Tower of London and represent over 800 years of history in the monarchy.
The jewels in the Queen's collection do not belong to the state but are the personal property of Elizabeth II. Many of the jewels in the Queen's collection were inherited from her ancestors. Her Majesty Queen Elizabeth II's personal collection is valued currently at an estimated $39 million.
Here are some of the beautiful and famous pieces the Queen owns.
The King George VI Victorian Suite (Set)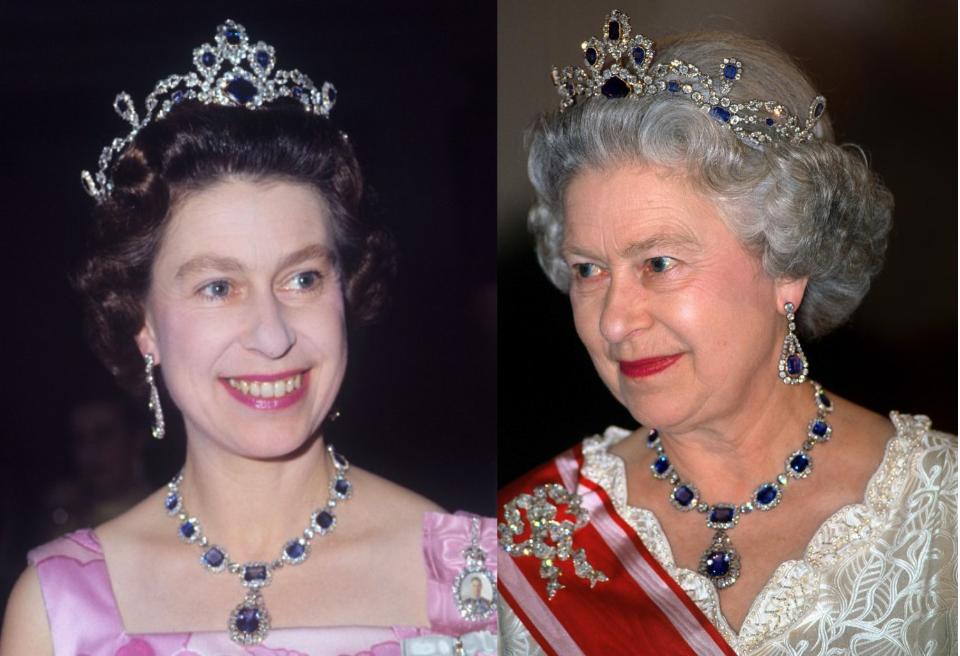 This set consisting of a crown, necklace, and earrings was made in 1850. King George VI gave it to his daughter Queen Elizabeth in 1947. Elizabeth had the largest sapphire of the necklace removed in 1952 because she wanted to shorten the necklace. That gemstone was placed in a new pendant in 1959.
The Prince Albert Sapphire Brooch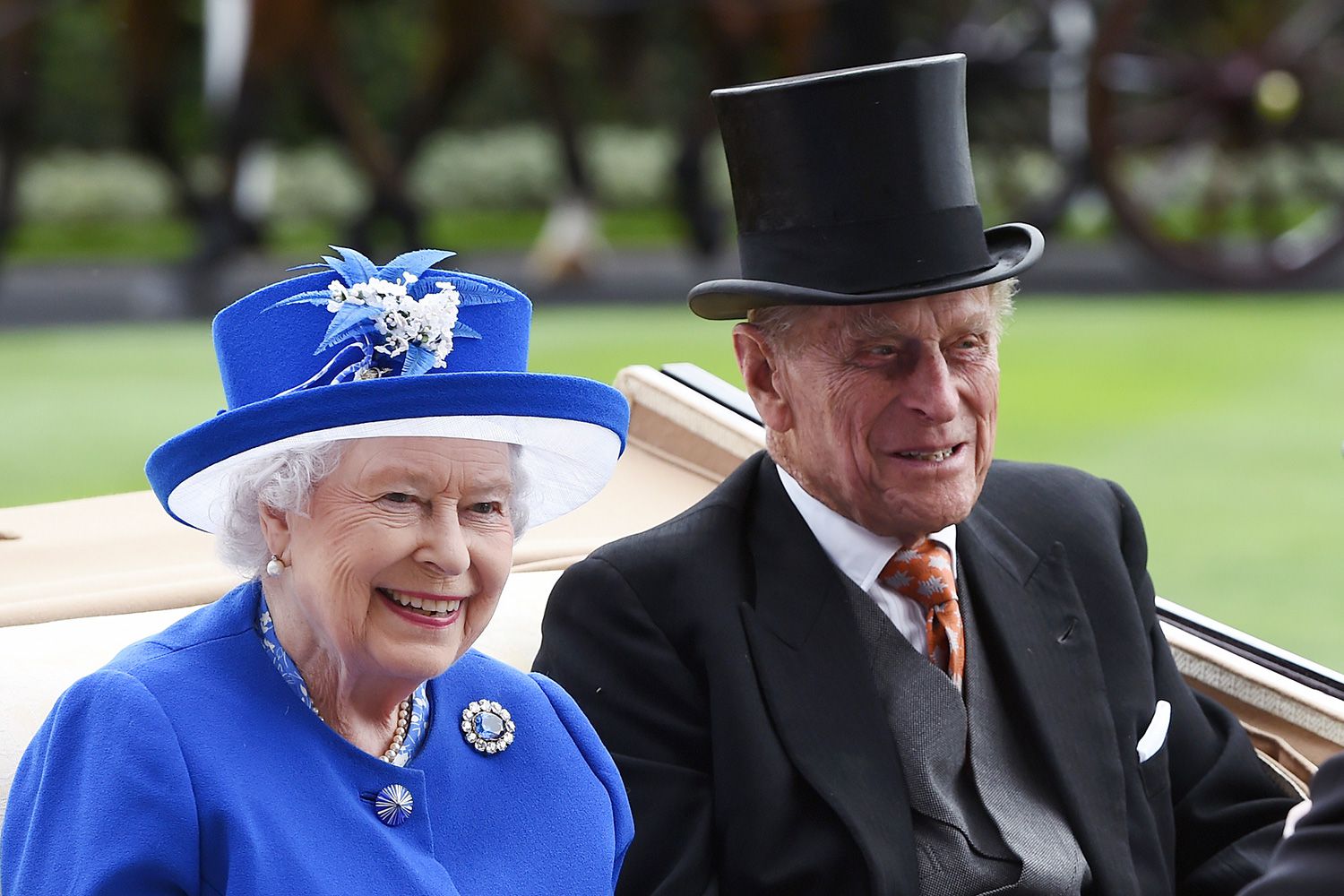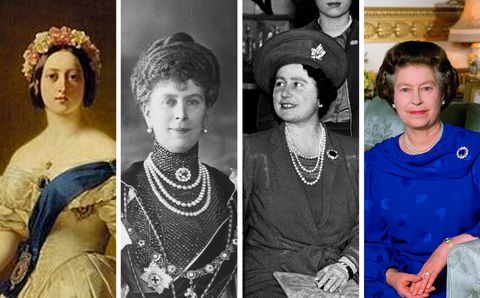 This amazing brooch was first given to Queen Victoria by her groom, Prince Albert of Saxe-Coburg-Gotha on the day before their wedding in 1840. The Queen wrote that Albert came to her sitting room and presented her with a beautiful sapphire and diamond brooch. The center sapphire is estimated to be around 10-30 carats and is surrounded by twelve diamonds. Queen Elizabeth inherited the brooch in 1952 when she ascended the throne.
Princess Diana's blue sapphire engagement ring.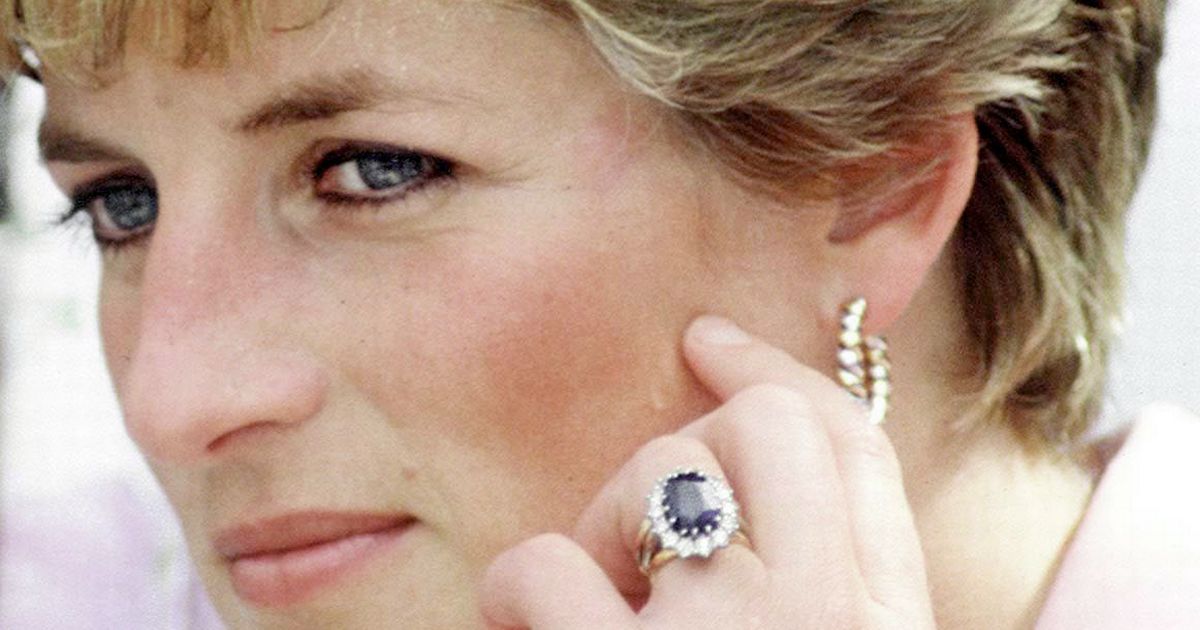 This may be one of the most recognizable pieces of royal jewelry, but not everyone was a fan of Diana's selection. Diana got to choose the ring from a selection of royal jewels as well as rings from a jeweler - Gerrard.
The ring was created for Diana with a white gold band and 14 solitaire diamond but it was featured in the jeweler's catalog, which meant anyone could buy it ($60,000). It was said that the royal family was not happy with this as they didn't want commoners having the same access to jewels fit for royals.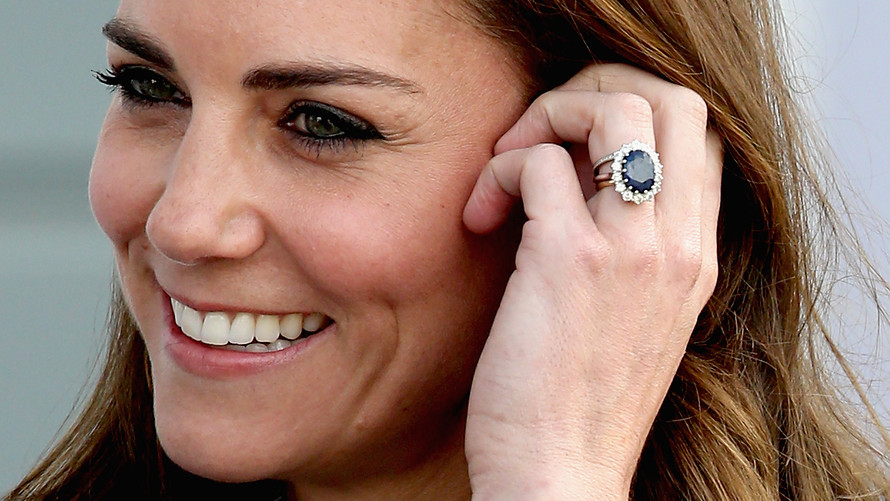 Today the beautiful Kate Middleton, Duchess of Cambridge wears the ring. Now, the ring is valued at more than $300,000, but is considered priceless because of its legacy as the engagement ring worn by both Princess Diana and the Duchess of Cambridge.
We may not be able to wear the Royal Jewels, but we can enjoy sappire jewelry. Today, there are many lab created sapphires that are stunning. The Princess Diana ring has been copied and can be found in many jewelry stores at affordable prices.
We will probably never become "Royal" but we can sure dream and wear our jewels with pride just like a Queen.